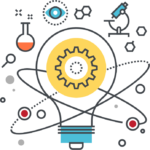 The Cornell Center for Immunology is thrilled to share that the following individuals have been selected to receive Core Facilities Seed Funds. Disbursement of funds and the award period will be modified to accommodate disruptions in grantees' research schedules due to the COVID-19 pandemic. Congratulations and best of luck to all grantees as they embark on their projects!
Melody Zeng for a project titled "Single-cell RNA sequencing of immune cells at the maternal-fetal interface in mice."
Gerlinde Van de Walle, Joy Tomlinson, and Mason Jager for their project titled "Determining the mechanism of hepatocellular necrosis in equine parvoviral hepatitis."
Juan Miguel Mosquera, Kentaro Ohara, and Olivier Elemento for their project titled "High dimensional characterization of cancer immune microenvironment by imaging mass cytometry."
Cynthia Leifer, Tracy Stokol, Nozomi Nishimura, and Iwijn De Vlaminck for their project titled "Single cell and bulk RNA sequencing on tumor associated-macrophages (TAM) in mouse mammary tumors"
Michael Corley for a project titled "Using advances in single-cell technologies to map the proinflammatory immune epigenetic landscape of autism spectrum disorders in brain and blood."
Saikat Boliar and David Russell for their project titled "Study of HIV-1 induced lncRNAs for role in macrophage immune functions and viral persistence."
Eftychia Apostolou, Ari Melnick, and Laurianne Scourzic for their project titled "Characterizing stem-like properties of GC B-cells and dissecting their role in lymphomagenesis.