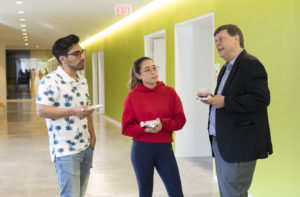 The Cornell Center for Immunology crosses schools on the Ithaca campus and serves as a bridge to immunological research in New York City. Members are interested in the fundamental biology of immune system cells, how immune cells can be used to probe broader biologic questions, and how immune cells may be utilized to modulated for novel therapeutic purposes. The Center provides an intellectual home for members as synergistic research programs are imagined and initiates programs and activities to meet the needs of our membership.
The Center:
creates research opportunities through seed funding for multi-investigator projects and core facilities research,
builds research capacity through technique workshops and by promoting investments to advance immunologic sciences, and
fosters connections and conversations among faculty, staff, and trainees through a variety of formal and informal center-sponsored events.